In most applications involving immobilisation of living cells or other biological materials the bead size needs to be small (<1 mm) and carefully controlled. The reason is mostly limitations of nutrient-diffusion into the hydrogel beads. An easy way for production of small alginate beads in a controllable manner is the use of a coaxial-air-flow bead generator. The basic principle of the instrument is the use of a coaxial air stream which pulls droplets from a needle tip into the gelling bath. Var J1 is designed for production of smaller quantities of spherical alginate beads ranging in size down to around 500 µm.
Principle of coaxial airflow bead generator: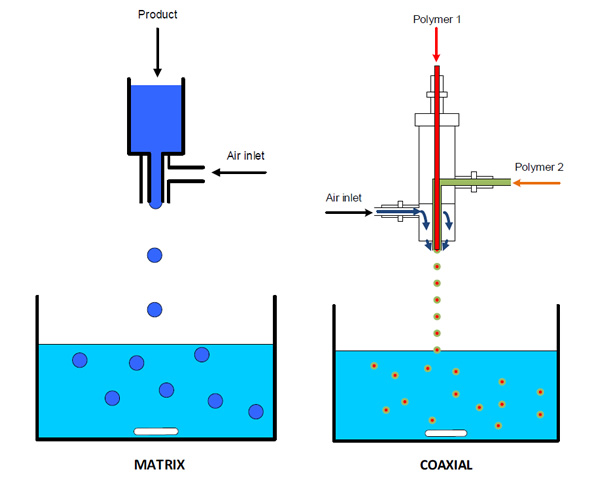 The bead generator with coaxial airflow is basically made of Polyetherketone (PEEK) and can withstand most chemicals and high temperatures, which make the unit very suitable for any disinfecting/cleaning method, typically autoclave cleaning. The unit is delivered with an assembly/ disassembly tool for easy cleaning and adjustment of the centre hollow needle.
The unit is equipped with two connections. One is used for the hose, which feeds the alginate (or other) solution. The other connection is meant for an air-hose with 4 mm OD. The alginate (or other) solution may be fed into the unit with a syringe pump. A magnetic stirrer can be placed underneath the gelling bath to keep the beads separated during gelling.

Options available:

• Air flow meter
• Sterile air filters

Please use the Info-Form to ask for the adequate encapsulation system for your specific applications.
Please note: You need Acrobat reader to display the following PDF - Files.