Encapsulation Unit VARGravity2Go10, with 24 or 30 nozzles
The unit consists of a head fixed on a bar (diameter 12mm) of a laboratory support.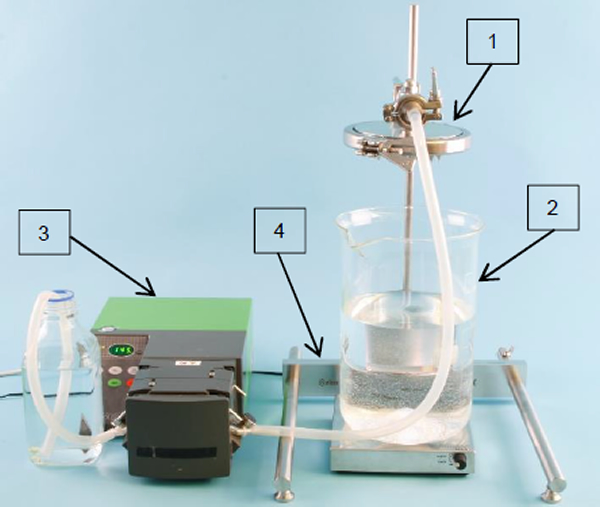 Head with 24 or 30 nozzle unit with stainless steel Luer lock adapters
Beaker with laboratory agitator
Pump
Laboratory support
Laboratory support consists of:
Stainless steel base frame
Stainless steel bar diameter 12mm to adjust the head's height.
Advantages of unit:
The head can easily be opened for cleaning and inspection without a tool by means of a clamp connection.
The nozzles are directly screwed on the head. Luer lock connectors are not needed anymore.
There is an upper clamp flange with a tri-clamp connection for feeding your matrix.
Lower flange can be integrated on a sterile closed system in future.
You can directly fix the nozzle on the plate between the two flanges.
Material:
Stainless steel 1.4435 (in contact with product) with ferrite content <1%
Gaskets for the nozzles PTFE
O-Rings EPDM
For all materials which are in direct contact with product the material certificates are available
(pharmaceutical production).

Nozzle available:
The following nozzle sizes are available: A wide range of Luer-Lock nozzles are available from OD 0.2 up to OD 1.5mm There are also blind caps available, which can be mounted instead of a nozzle. Customised nozzles are available to be mounted directly on the nozzle plate without the Luer-Lock adapters.
Design of the Unit:
The unit is available in three versions: 24 and 30 nozzles.


Head for 30 nozzles and customised nozzles

Please use the Info-Form to ask for the adequate encapsulation system for your specific applications.
Please note: You need Acrobat reader to display the following PDF - Files.